I talked about having a 'me-time' as very important moms in my previous blog posts. Now, in this I want to discuss a little more about the 'me-time.' And what is the idea of me-time according to the society and family. Read along, just not 'me-time', sometimes we need help too.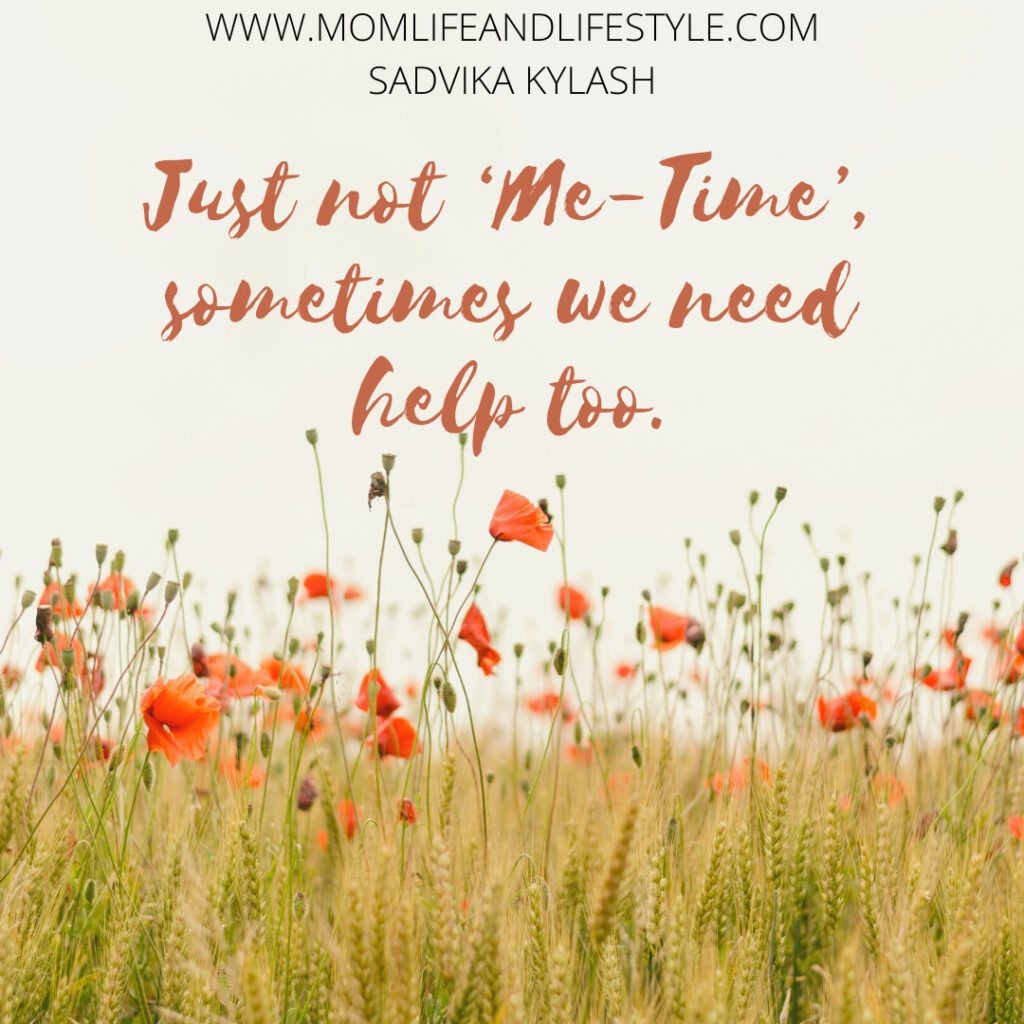 Usually, they think that, "out with friends? Oh, this is her me time." Gone to the parlor? Because it is her me time. This is what all think when we speak about having this break time
But frankly speaking, we (moms) need not just the 'me-time but we need help too!
Let me put it this way, me -time, where a mom, be it working or a stay-at-home mom, takes some time from her busy schedule for herself. This is what I believe me-time is. But it is often mistaken as, after having a free time she(mom) would do the work which is left unfinished because she was having her me-time?
I strongly feel that just not 'me-time, sometimes we need help too, to enjoy the time for ourselves.
So, here are few things that I wish moms could get:
We are humans after all: Women(moms) are expected to do everything (cleaning, cooking, housekeeping, guide, shopping) They all are time taken and energy darning works that women take up. A little help, while we are doing such chores any one of the other chores can be done by your partner. So that you don't feel the burden to finish that chore also.
We put a lot of effort to get the house put back in order from day today. I wanted a little of the break, which would not affect the few works that might be pending. Small mutual support from partner to assure that these works would get done.
Help me to have a care-free me-time:
While I go out to have my relaxed time which is much needed for my state of mind, I would like to be sure that kids and the house chores are done if I have left any. And so, without any tension, I go back home after the peaceful me-time.
Me-time is different in that time is taken to get a job done:
This is the most common misunderstanding of the this whole concept, I feel. Going to the boutique or the grocery store is "not me-time. It is a job getting done.
Equal support from family:
If we have equal support from family and partner, we don't need the a separate time for oursleves. The house chores would be divided equally among the family members and we would eventually have some time to have me-time.
This Blog Post is a part of CauseAChatter and BlogChattera2z challenge hosted by BlogChatter.
You may also want to read my other a2z Post here:
Copyright Sadvika Kylash
This article is the property of the author Sadvika Kylash (momlifeandlifestyle.com). Any unauthorized use or duplication of this material without express and written permission from this site's author is strictly prohibited