Parenting is something that we all parents enjoy. But it is sometimes a lonely journey. Here are the 7 Things I Knew Before I Became a Parent is my attempt to tell the world that Parenting is not always happy pictures that we see on Social Media but there is a lot behind it.
Parents or new parents we always have advice from our friends and family. It is not always easy to accept advice from others who have been in the same shoes. Sometimes as parents we would want to believe in our idea of parenting.
Sometimes it is hard to take up advice from our close critics, that's our family and our friends. And in this process, we do feel lonely in our journey of parenting. Every family is indeed different, I have heard few statements from other moms and some are from my parenting journey that will connect to you right away.
Parenting is not something you would be getting a set of rules. But it feels obvious about the universal facts too. I guess like me, most of you have dreamed, wished, and imagined of becoming a parent. It is a dream come true, for sure. but sometimes that experience doesn't turn out the way you imagined.
Here are the list of 7 things I wish I knew before I became a Parent: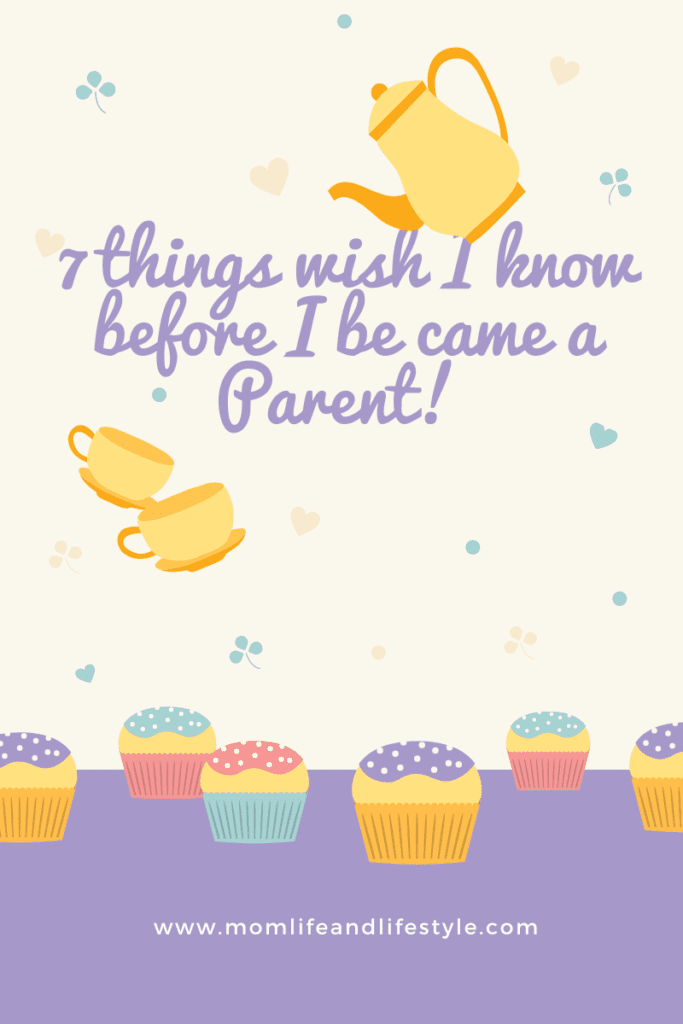 Let me start with:
Pregnancy is where Parenthood starts:
It all starts when you find out that you are pregnant, and the world around you starts to change. Your body will mind its own business. And you start to think about "The Family" and not just "us two"
Pregnancy is a rough ride for all, some have all-day sickness and while some have morning sickness, indigestion to body aches. But you accept them as you know that they are normal.
First few months into Parenting:
Just remember the moment when you first saw your child. Well, how precious it was. And we all wish we could just stop by that moment. And in no time you would be back home with your precious child who is taking all control of your life in every way possible, every day!
The first few months with the new born is so overwhelming. As you are new to parenting it would take some time to know that pattern of your newborn. With you being alert with the little sound or the slightest moment that would wake up the little one.
When I look back, I realized how anxious and overwhelming I was. And I wish I knew that this was normal so I had little more time to relax and not spend time worrying more and enjoy Parenthood.
A night of peaceful sleep is a rare thing. Few months into Parenting and you would realize how much you miss sleep and how long it's been that you did not have an undisturbed sleep and, you would then realize how much you took peaceful sleep for granted. For a Parent, all-night sleep becomes a rare thing!
Sleep breaks between breastfeeding, bottle feeding, and diaper changing you may consider if you have a complete 2 hours of sleep in between. Parenting is something that makes you go from being the "party all night" to "sleep whenever you can"
As people say, "sleep when the baby sleeps" well, this works for the first 2-3 months. Even then you would have your chores and works to do. So this phrase might not be correct.
Don't buy more toys and clothes:
As we hear then, we are so excited to buy clothes and toys for the newborn. But this is one of the biggest mistakes. Have minimal clothes and toys. In no time they will outgrow those clothes and they would find some random household object to play with.
Parenting comes with an expense:
Well as rightly said, "Bacho Ke Liye shopping Karna, Bacho ka Khel Nahi" I feel it's so true! As parents we always that hidden costs that come along. You just cannot imagine how many diapers you are going to need. Although cloth diapers are highly recommended. Frequent visits to the doctor and medicines, baby supplies, and the list go on.
Although we always dream of having few works from home days. But this dream would become a nightmare if you choose to work from home. It might or might not be suitable for you as the little one might demand your attention.
Going out is not a convenient option:
One of the main things is that parents have to be mentally prepared that the social life would be no fun as it takes a back seat. As a fact that parents can no longer make an instant plan and go on a trip or shopping. Planning and with a big baby bag with baby essentials that you might need.
A few of the above mentioned is that I could list out are few things I knew before I became a parent. But overall lies a fact that your life would be changed completely for sure. going out for a casual hangout, or just having a simple peaceful tea, everything would be changed.
But despite life being difficult after becoming a parent, being a parent is one of the most rewarding things in the world. Above are just a few, 7 things I wish I knew before I became a Parent.
I am sure we would encounter some special moments with kids on a day-to-day basis, capture those moments with pictures. Having fun with pictures is one of the best ways to make memories. Either at home or outside, having pictures with your little one is the best thing.
Days with kids pass by very quickly. We as parents be so busy working and providing all things needed for them, that we sometimes tend to ignore to capture and live those little moments. Being stressed about how you are as a parent gives you nothing but stress. You don't need a textbook on how to be a good parent because you are the best your kid can ever have.
Do comment and let me know, what are those "7 things I wish I knew became a Parent" situation.
Also do read my other Blog Post, Why having a Me Time for Moms is so important, yet so difficult to take one and Weight loss after Kids
This blog post is part of the blog challenge 'Blogaberry Dazzle' hosted by Cindy D'Silva and Noor Anand Chawla, and generously SPONSORED BY Bugshield Clothing – Enjoy Outdoors More!
Love,
Sadvika Kylash.
Follow me on my Instagram