Mom Guilt is something that all moms would face, sooner or later. As in my previous post I spoke about the Temper Tantrums, even we (moms) would have some kind of outburst when we reach a tipping point. Read along, quit having mom guilt.
So, I thought I was doing a good job and hiding my feelings from kids but inside I knew I was going downhill and all my hidden feeling were taking a toll on me. I, at a point, felt I was losing connection with kids. It might be a lack of sleep or some changes that I made.
I had no idea about what was that that made me feel anxious and feel guilty.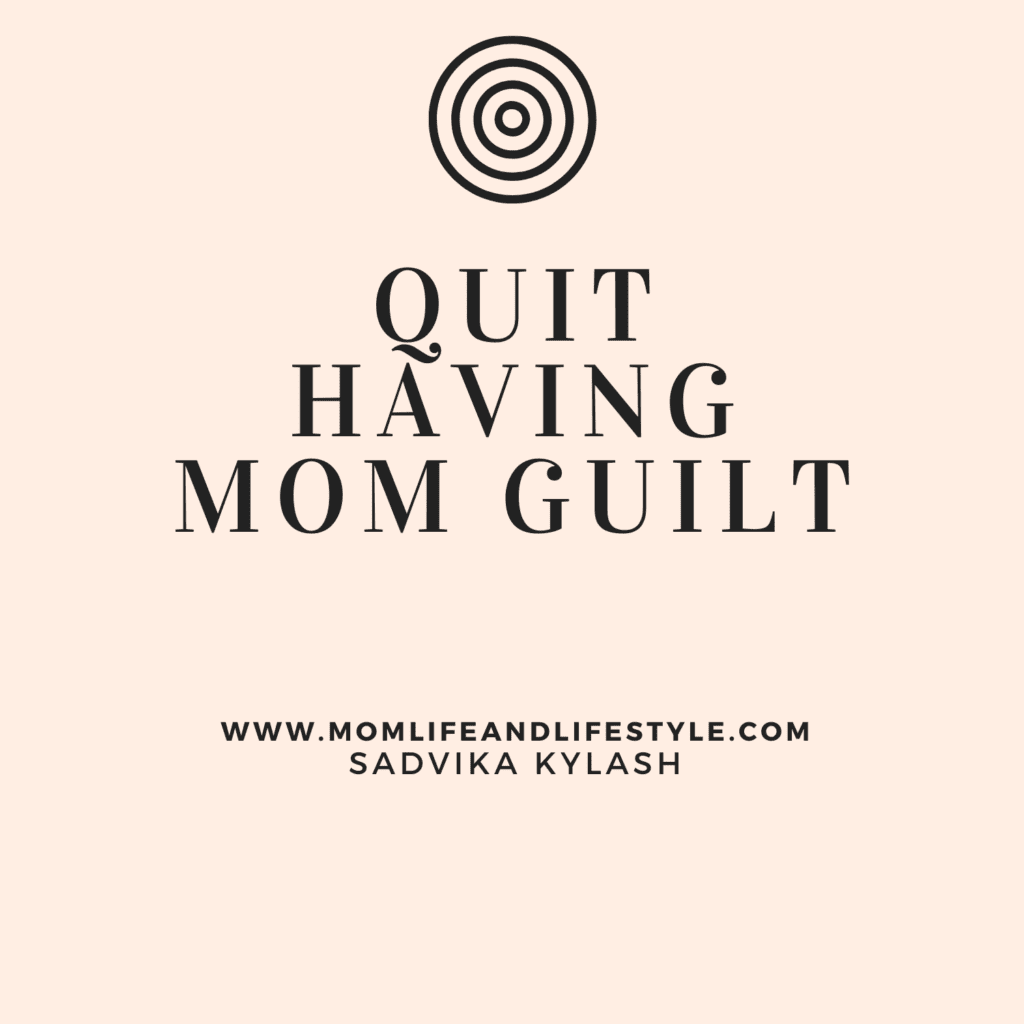 Here are few ways that I could figure out over time:
Quit having Mom Guilt.
Have a comment with kids:
Off lately, having a comment with kids worked wonders. In any given situation having a conversation with a comment was both ways. Whereas, while I ask a question, 'Why did you do this, where did you go' these became a single-way conversation. Not having much scope to have much to talk about.
And if you choose to have a comment with your kids, they would more likely to interact with you. Not having to think, what you would say. Having more conversations with kids would result in fading of the mom's guilt.
Get off the phone!
Due to the pandemic, we moms have double the work that needs to be done. Be it house chores or getting up the house in order or the kid's school works. We are on our toes. With such busy days, reaching out to phone is a rare thing.
Once kids are up for a nap, sometimes we do feel is sit on the couch and look at the phone. But one particle thing, if we have our phone, we would miss doing these small tasks. Instead, get off the phone and lock up those small tasks before kids wake up. This would not make you feel mom's guilt of not doing your tasks.
Top of Form
Self-care:
Have a self-care routine for yourself. In my post, Happy mom makes happy kids, I have talked about the same. How a happy mom would make happy kids. Kids look up to you are a Wonder Women and you cannot give them 100% when you don't take care of yourself.
Having some self-care time for yourself is mandatory. This would help you to quit having mom guilt. And mind you! Selfcare not necessarily is your me-time. Having a passion and working on it can be considered as a me-time.
Have 1:1 with each child:  
If you have 2 or more kids, then you know exactly how important it is to have equal importance and attention to each child. So, I have come up with a hack of having one child talking while the other and I listen up.
I would let them decide on what they want to talk about, what they want to show, while the other has to listen and wait up until it's their turn.
Have your me-time:
As I said sometimes having self-care time is not equal to having me-time. Make your me-time for something that you love and passionate about. Be it painting, be it working out, be it blogging (as in my case)
But as a mom, we would make sure that kids are ok with it. And while you are busy with your me-time, you would want to make sure that kids are happy and playing. This would not make for have the mom guilt for not spending time with kids. Although we spend just a little time on ourselves, we are moms, anything apart from kids and home would sometimes make us have the mom guilt.
This post is a part of BlogChattera2z challenge and CauseAChatter hosted by BlogChatter
If you wish to read my other a2z blog posts:
A: Appetite Ups and Downs for Toddlers.
B: Because, I don't take any crap I am a Mean Mom and proud of it.
C: Cook new food and Tips to make your child eat.
D: Dear Mommy. A letter from a child.
E: Easy DIY face pack for moms, to the rescue.
F: Five favorite self-care things that I do.
G: Guide for new moms on multi-tasking.
H: Happy mom makes happy kids.
I: I am a better mom for two than one.
J: Just not me-time, we sometimes need help too.
L: Laziness and lack of motivation in kids?!
N: Note To Self. – Motherhood Edition.
O: Oh, God! I Need Help! – Motherhood Edition.
P: Parenting tip: Ways to handle Temper Tantrums in Toddlers
Copyright Sadvika Kylash
This article is the property of the author Sadvika Kylash (momlifeandlifestyle.com). Any unauthorized use or duplication of this material without express and written permission from this site's author is strictly prohibited